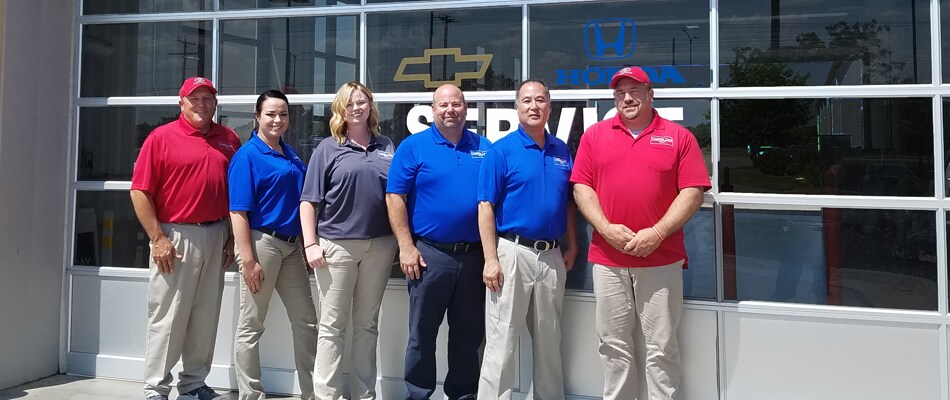 Thank you  for choosing Conklin Honda Automotive Service Center



Hello,

 

I'm Service Director Chuck Jones

. When you choose Conklin Honda for service, you will be checked in by one of our Friendly Service Advisors. Our waiting area is a great place to wait for your vehicle. You have a variety of refreshing beverage selections, complimentary WI-FI,  and a play area for the little ones. If you need to get back to work or you would rather wait at home, we offer a complimentary shuttle for your convenience. If you purchased your vehicle at our dealership within the last 3 years, we have complimentary loaner cars while yours is being serviced.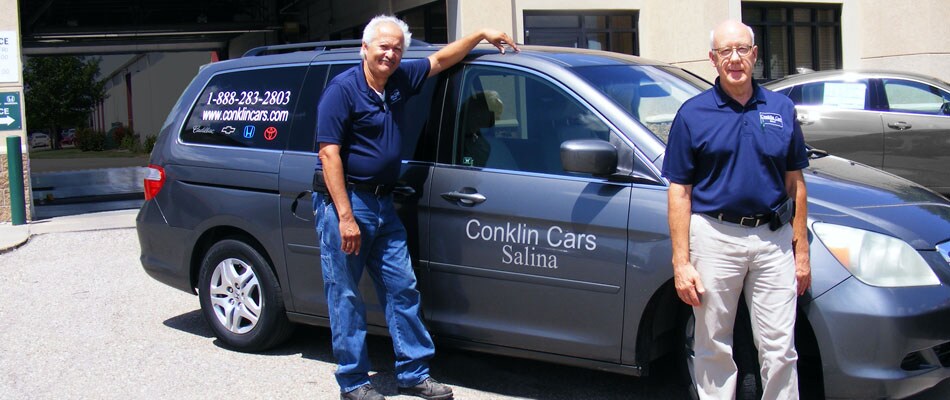 Your vehicle deserves expert care from the people who know it better than anyone else. We employ factory-trained technicians who use state-of-the-art technology and equipment to help you keep your vehicle running like new. Trust your vehicle to the Certified Service experts. If you're looking for a trusty service facility close to home,  there's no better place to come than our Honda Service Center in Salina, KS. We know our customers put a lot of strain on their vehicles, whether they're making daily commutes to  and from Wichita or hauling heavy loads on their farm in McPherson, so we're here to serve as the go-to repair shop for everyone. You should be confident and safe behind the wheel of your vehicle at all times. Our Friendly Service Shuttle drivers can get you where you need to be while your vehicle is here. It's important to  keep up with routine maintenance. 
Conklin Salina Kansas Car Repair
Conklin Cars Honda in Salina Kansas is your local expert when it comes to all auto repairs as simple as Oil Change to more complex issues. Our team of experienced and skilled technicians is always ready to provide the best repair and maintenance services in this area. If you are looking for stress-free and seamless repair services for your truck, sedan, or SUV, you should visit us first. You can rely on our top-notch Honda auto services. From basic services such as oil changes to extensive services such as transmission repair, you can always trust our team to get you back on the road as soon as possible. At Conklin Honda Kansas, you can rest easy knowing that your vehicle is in good hands. We are committed to excellence when it comes to automotive repair, and we adhere to the highest quality standards. Our goal is to prevent costly breakdowns or repairs while keeping you driving safely on the roads. We offer a wide range of services including:
Tires Alignment
When wheels in your vehicle are not properly aligned, it's operation and handling will be negatively affected. As a result, you will experience increased tire wear and reduced steering performance. And in some emergency situations, misaligned wheels can lead to dangerous road accidents. As you probably know, your safety on the road should always be your priority. Therefore, you need to avoid all those issues by bringing your vehicle to us, if you notice any sign of misalignment. Your vehicle's wheels can be misaligned due to various reasons. For instance, whenever your vehicle hits a pothole, road bumps or uneven pavement, the wheels can lose their ideal position.
A wheel alignment should be performed at least once in two years. However, that frequency can also change depending on the conditions you are driving in as well as the type of your vehicle. Our experienced mechanics will give you an accurate recommendation, depending on how you use your vehicle. When you are driving straight and your vehicle veers to one side, then that's a sign that your wheels are misaligned. Also, if you feel that your vehicle is wandering or not handling well, then you should bring it to us right away. Driving with misaligned wheels can lead to premature wear and tear of the tires. It might also contribute to unavoidable accidents. Wheel alignment is an important and critical service. Therefore, you need to ensure the right mechanic is handling your vehicle. At Conklin Salina Kansas Repair, we have years of experience when it comes to wheel alignment. We will make sure that we fix the issue properly the first time so that you can save time and money. Schedule a visit with us today for all your wheel alignment needs.
Oil & Filter Change
Many vehicles today are equipped with an Oil Life System that helps determine when it is time to change your oil. Your vehicle will illuminate when your oil life is under 10% and it is time to schedule your next oil change. Our Honda Certified experts will help you choose the proper grade of oil for your vehicles performance. Regular oil change are critical to the life of your vehicle.

Transmission Repair
Transmission repair can sometimes prove to be a complex and complicated procedure. However, our technicians have the skills and experience necessary to diagnose any issue that might be affecting your vehicle's transmission. Never waste your time or money, trying to fix your car with junkyard parts, which are unlikely to work. Instead, bring it to us and we will correctly identify the issue and recommend the most appropriate parts. We do everything related to a vehicle's transmission system, from transmission repair to transmission replacement.
At Conklin Cars Salina Kansas, we will never replace your vehicle's transmission, until we feel that it's necessary to do that. Apart from that, we promise to examine your vehicle's transmission issues in an expert and honest manner. Our service shop promises to provide courteous and prompt services for all our customers. If you have experienced any transmission problems with your car, don't wait until it's too late. Call us right away or visit our service shop. If you are looking for reliable transmission repair and replacement services in Kansas, call us today and we will be happy to help. We handle all types of transmission systems, from fully automatic, manual to CRT transmissions.

Brakes Repair
Brakes are among the most important components in your vehicle. They prevent incidents and accidents on the road while keeping you safe. However, even if you have installed the best brake system in the world, it will need repair or replacement at some point. And this is where we come in. At Conklin Cars Salina, we offer some of the best brake services in the area, at competitive prices. You can count on our skilled technicians to deliver a splendid job, every time you bring your vehicle to us. 

Bad brakes usually display various warning signs for impending failure. For instance, if your experience that your brake pedals are pressing down too easily, then you need to bring your vehicle to us for a checkup. In some situations, your vehicle will warn of an issue with your braking system. Never ignore any of these issues, as they might lead to accidents or costly repairs. We repair and replace brake pads and rotors, master cylinders, ABS control system and traction control system, among others. You can trust our auto repair shop because we are the most recommended and highest rated brake service specialists in Kansas City. We will never overcharge you for service or parts.
  
Paintless Dent Repair

Also known as paintless dent removal, paintless dent repair or PDR is one of the most affordable and fastest methods of vehicle dent repair. Our technicians can complete this process within an hour or even less, thus saving you time and money. From small dings to major dents, our service team can restore your vehicle's shape and structure, without engaging in intrusive methods. But before anything else, our service technicians will first examine the damaged part thoroughly, to determine whether paintless dent repair can fix the problem. If we are satisfied that paintless dent removal suits your needs, then we will proceed with the process. 

Paintless dent removal is ideal for low impact dents and hail damage. Since the original factory paint on most vehicles tends to be flexible, we can remove the dents and the dings without removing or adding any paint to your vehicle. By the time we have finished the restoration process, it will be hard to tell whether your vehicle had any damage. We normally use this repair process to when dealing with indentations or outer panel strikes, which have not removed paint from the vehicle. Also, our mechanics consider the location of damage when examining your vehicle. Having been in the auto repair industry for many years, we can determine the most appropriate approach for any dent on your vehicle.

Shocks and Struts Repair

Shocks and struts are key components in your vehicle's suspension system. They keep your vehicle properly balanced and riding smoothly on the roads. If the struts and shocks are damaged, you can experience various issues with your vehicle's handling. If you fail to have these parts replaced on time, the problem will spread to other areas such as the tires, springs and ball joints. Also, braking ability and distance are also affected when the struts and shocks are damaged or worn out. Some of the symptoms of damaged struts and shocks include excessive vehicle bounce, reduced suspension control, reducing braking performance, premature wear and tear of the tires and poor tire-road contact. If you experience any of these symptoms, bring your vehicle to us and we will assess it and advice you on the best way to proceed.
 
Body Shop and Auto Detailing

Restore your vehicle's shine and luster with our premium auto detailing services. At Conklin Cars Salina Kansas, we have the professional detailing experience and skills, needed to make your vehicle sparkle and shine. As one of the most prominent auto detailers in Kansas, we specialize in making your vehicle's exterior appear as if they have a glass finish. And by the time we have finished working on your vehicle, you will enjoy crystal clear windows, lustrous tires, as well as rims that sparkle. 

When you trust our auto detailing services, we will treat your car as if it was ours. And most importantly, we handle your vehicle with the utmost care and caution. Some of our detailing services include shampooing the carpets, seats and trunk, steam-conditioning the vents, vacuum cleaning the interior and the trunk, odor removal, as well as scratch removal, among others. If you are looking for the best auto detailing services, then you don't have to go any further. We have mastered the art of detailing and our passion is reflected in the remarkable finish of every vehicle that we treat. Visit our service center today for professional auto detailing at highly competitive prices.

Auto Electronics

Your vehicle's electrical system directs energy to the lighting system, the engine starter, locks, windows, brake lights, turn signals, headlights and dash lights. The entire system is connected through a series of circuits, wires, fuses, and relays. Unfortunately, your vehicle's electrical system can fail at any time, due to various reasons. And when that happens, you will be in serious problems. The electrical system may fail due to broken switches, improper fitting pins, problematic connections, and loose wiring. 

Wires can become loose after a collision or during a rough drive. Also, if you have purchased a second-hand vehicle, the wiring might be loose already, especially if the previous owner didn't maintain the vehicle properly and the problem was not diagnosed during the sale. Whether you are driving a top-of-the-line package or an economy model, your vehicle's electric system plays a vital role in its operation. For instance, if the lights are not working, then you cannot drive at night. Furthermore, if brake lights fail, then you might end up in an accident. Whenever you notice flickering lights, trouble starting your car, unresponsive brake lights, or low fuel economy, it's important to bring your vehicle to us for a checkup.

Engine Repair

The engine is the most important component in a vehicle. It can be equated to the human heart. It creates power for your car and makes it move. If the engine is not functioning properly, then your vehicle might not serve you the way it's meant to. However, you should also note that just like the other components in a vehicle, the engine undergoes normal wear and tear. Therefore, it will require regular servicing and maintenance.  Engine issues can arise from various factors. Some problems are complex while others are easy to diagnose. Regardless of the extent of the problem, the expert team at our service shop is ready to attend to your engine's problems. We can diagnose and repair it to ensure you get back on the road as soon as possible.

All our technicians are ASE certified. Also, they are highly trained, experienced and equipped with the latest diagnostic equipment and tools, to identify any problem with your vehicle's engine and fix it accordingly. We provide top-quality customer service, while our attention to detail is unmatched throughout Kansas City and the surrounding areas. With decades of experience, we are more than equipped to meet all your engine's repair and maintenance needs. Whenever the check engine light comes on, don't delay any longer or hope that the problem will go away on its own. Instead, bring the vehicle to us and let the professionals handle the issue.

Visit Us Today

The friendly team at Conklin Cars Salina Kansas is ready to provide you with the best services when it comes to personalized attention and quality care. We use advanced diagnostic equipment to identify and deal with any problems that your vehicle might have, thus eliminating any worries that you might be having. We know that you rely on your vehicle for your day to day needs. Therefore, we will always strive to make sure that your vehicle is attended to within the shortest time possible. Also, you can rest assured that whenever you bring your vehicle to our service shop, you will get value for your money. We try as much as we can to reduce the need for return visits, thus saving you time and money. If you are looking for auto repair services that you can trust, then we are here for you. We have built our reputation on auto repair expertise, hard work, and integrity. Visit us today for all your auto repair and maintenance needs, and we will be happy to serve you and earn your friendship and trust.