Salina Ks New Honda HR-V
Although the new Honda HR-V has been in the market for a short period, it has already established its presence. Drivers across the country have come to appreciate and love this compact crossover SUV for its spacious interior dimensions as well as precise handling. With its ability to deliver up to 34 mpg on the highway, you have an efficient and powerful car, which can take you wherever you want to go. It is designed for families that want to enjoy the advantages of a full-size SUV, without losing the practicality of a compact model. It plays that role perfectly.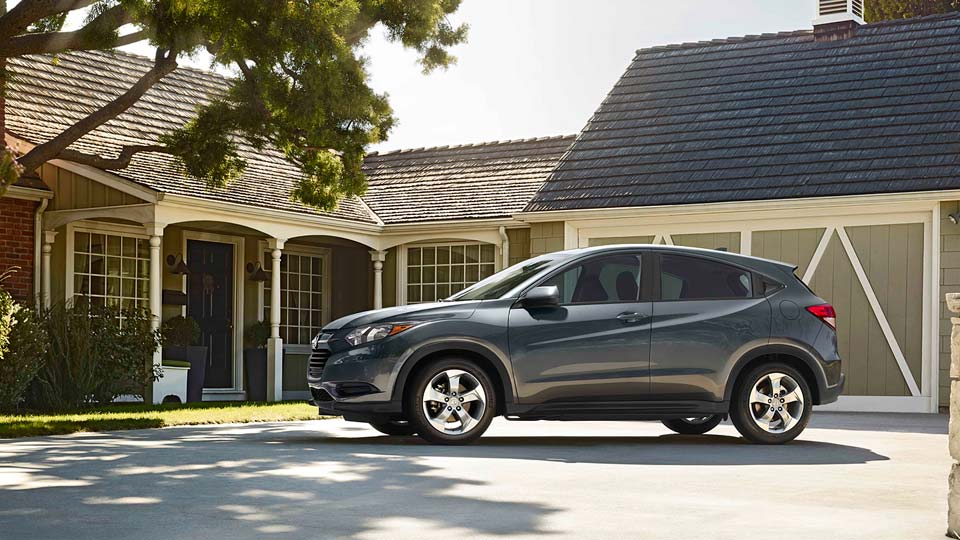 Conklin New Honda HR-V Dealership Serving Salina Kansas, Junction City Ks, Manhattan Ks, McPherson Ks Area
Salina Ks New Honda HR-V Key Benefits

- Feature-packed base model
- Efficient engine
- Great handling
- Comfortable, spacious and versatile interior
- Stylish and attractive exterior
- Highly useful safety features
- High resale value


Salina Ks New Honda HR-V Drive and Performance

The new Honda HR-V has achieved something outstanding by providing sufficient power needed for stately highway cruising, light off-roading, and agile city driving. It manages to achieve all this without sacrificing its remarkable fuel efficiency rating. You can choose between a continuously variable transmission (CVT) or a 6-speed manual transmission.

The manual transmission is a great choice for drivers who want to take full driving control. It provides an impressive 33 mpg on the highway and 25 mpg in the city. On the other hand, the CVT has a return of 34 mpg on the highway and 28 mpg in the city, making it even more impressive. Its 1.8-liter, four-cylinder engine, has an output of 141 hp and 127 lb-ft of torque. The engine delivers that power fast for quick acceleration. If you are one of those drivers that love to enjoy nature, then you have taken care of.

The HR-V is available in All-Wheel Drive, with Intelligent Control. With this system, there is enhanced traction that can handle all manner of terrains. AWD can also navigate adverse weather conditions easily. Higher trims such as the EX and EX-L come with a push-button start. The system allows you to start your engine even without removing your keys from the pocket or purse.

Salina Ks New Honda HR-V Safety and Reliability

As a crossover built for family transportation, safety is a main priority in the new Honda HR-V. It has received top safety ratings from both state and independent reviewers. When you bring in a wide range of standard and available safety features, you will always have peace of mind when driving this SUV.

Imagine trying to navigate from a tight parking spot, with half your body outside the window trying to see what is behind your car. It doesn't get worse than that. The good news is that Honda has streamlined that issue by providing a rearview camera as a standard in all trims. With the rearview camera, you can cycle between different viewing modes, which are normal, wide-angle and top down. Those views provide a comprehensive view at the rear of your car.

Another feature is the Vehicle Stability Assist, with Traction Control. It monitors your driving habits and corrects any discrepancies if any are noted. There is also the Honda LaneWatch, which allows you to change or merge lanes with greater safety and less stress. The LaneWatch feature is mainly available in the EX, and EX-L Navi trims. All trims also come with electronic brake distribution mechanism as a standard.

New Honda HR-V Interior and Features

So many features separate the Honda HR-V from the competition. For example, If you require plenty of cargo space, then you don't have to worry. The HR-V has got you covered. It delivers up to 24.3 cubic feet of cargo room in the main area. Once the rear seats are folded, you get up to 58.8 cubic feet of cargo space. The Magic Seat is one of the main reasons why the HR-V has gained popularity so fast. It allows up to four configurations such as the Tall mode, Refresh mode, the Long mode and Utility mode. You can then alter the configuration based on what you want to transport. Other features include the HondaLink infotainment system, Honda satellite-linked navigation system, a 7-inch touchscreen and heated seats.

Verdict

The Honda HR-V is a good example of an affordable, efficient and well-rounded crossover. It has the best combination of available family-friendly features, quality, value, and space. It delivers a smooth ride, and the interior is comfortable. For a good buying experience, visit us today and drive away with this magnificent family driver.

Conklin New Honda HR-V Dealership Serving Salina Kansas, Junction City Ks, Manhattan Ks, McPherson Ks Area
See All Honda Models:  Honda Accord   Honda CR-V  Honda Civic  Honda Odyssey   Honda Ridgeline  Honda HR-V  Honda Pilot  Honda Fit